The JCCSF Swim School is open to kids of all abilities. From first time in the pool to proficient swimmer, kids can progress through the levels of our program to reach their swimming goals. We offer group classes as well as private and semi-private lessons where swimmers will learn the different strokes and techniques needed to grow into confident swimmers.
GALLANTER FAMILY AQUATICS CENTER
Thanks to a generous grant from Sandy and Linda Gallanter, we have just completed a much-needed renovations project to improve the overall experience for all our swimmers. That includes a new dehumidifying system along with several other improvements that will make your experience more enjoyable, including the ventilation and air quality.
WHEN CAN I SWIM?
Upcoming Holiday Hours & Closures
There will be no Swim School on Friday, Sep 29.
Sukkot, Fri, Sep 29: Aquatics Center Open 5:30 am – 5:45 pm
Sat, Sep 30: The JCCSF will be Closed All Day
Regular Aquatics Center Hours
Monday – Friday  5:30 am – 8:45 pm
Saturday & Sunday  7:00 am – 4:45 pm
Recreation & Family Swim Hours (Rec Pool)
Monday – Friday: 5:30 am – Noon, 3:00 – 8:45 pm
Saturday & Sunday: 7:00 – 8:00 am, 2:00 – 4:45 pm
Pool capacity is 50 swimmers. Space limited from 5:30 pm – 7:15 pm.
Adult Swim
Monday, Tuesday & Friday: Noon – 1:30 pm
Wednesday: Noon – 1:00 pm
The Lap Pool is available for lap swimming during Aquatics Center hours. Peak time is 4:00 – 7:00 pm every day.
View our full Lap Pool and Rec Pool schedule breakdown by day.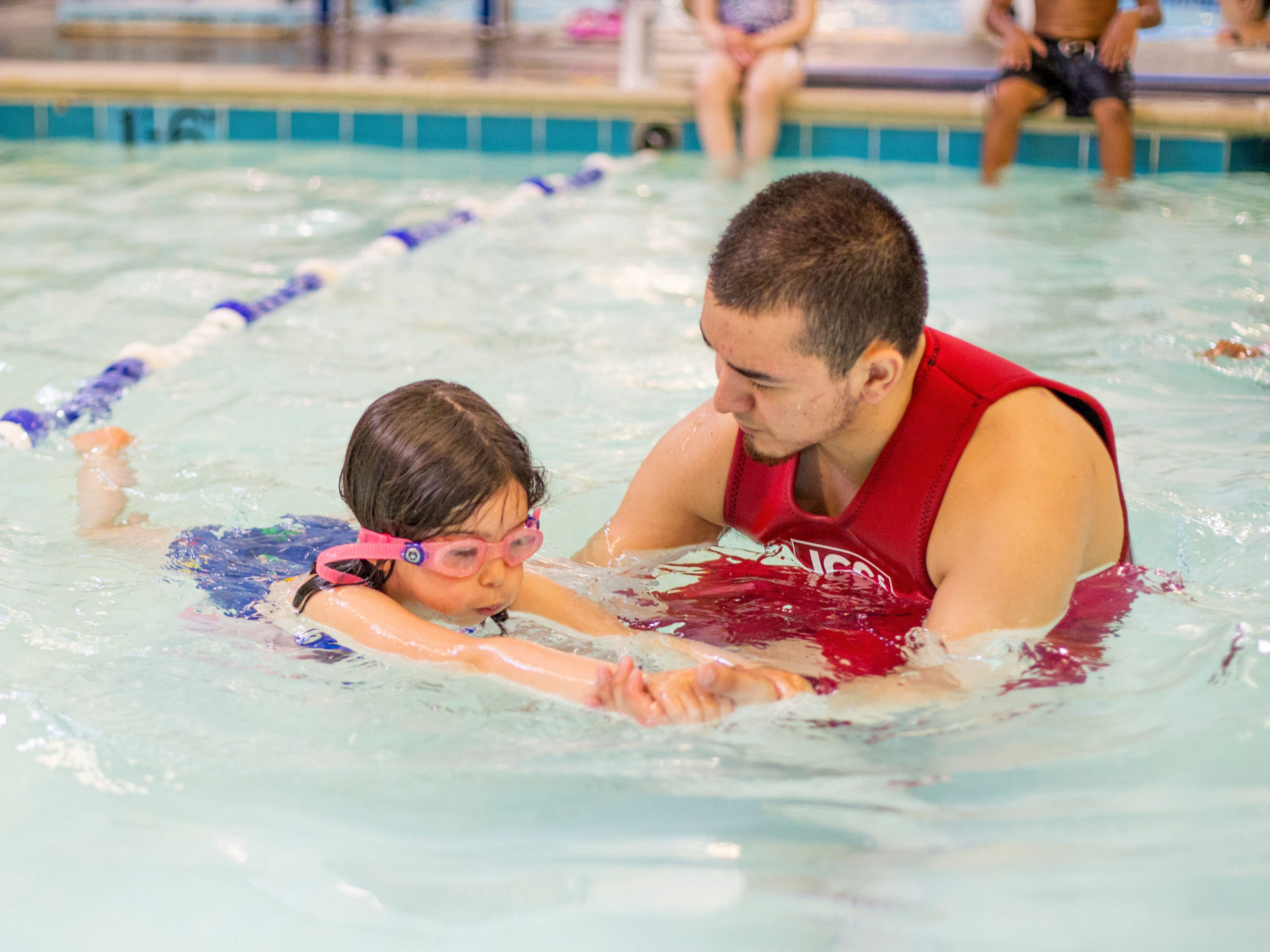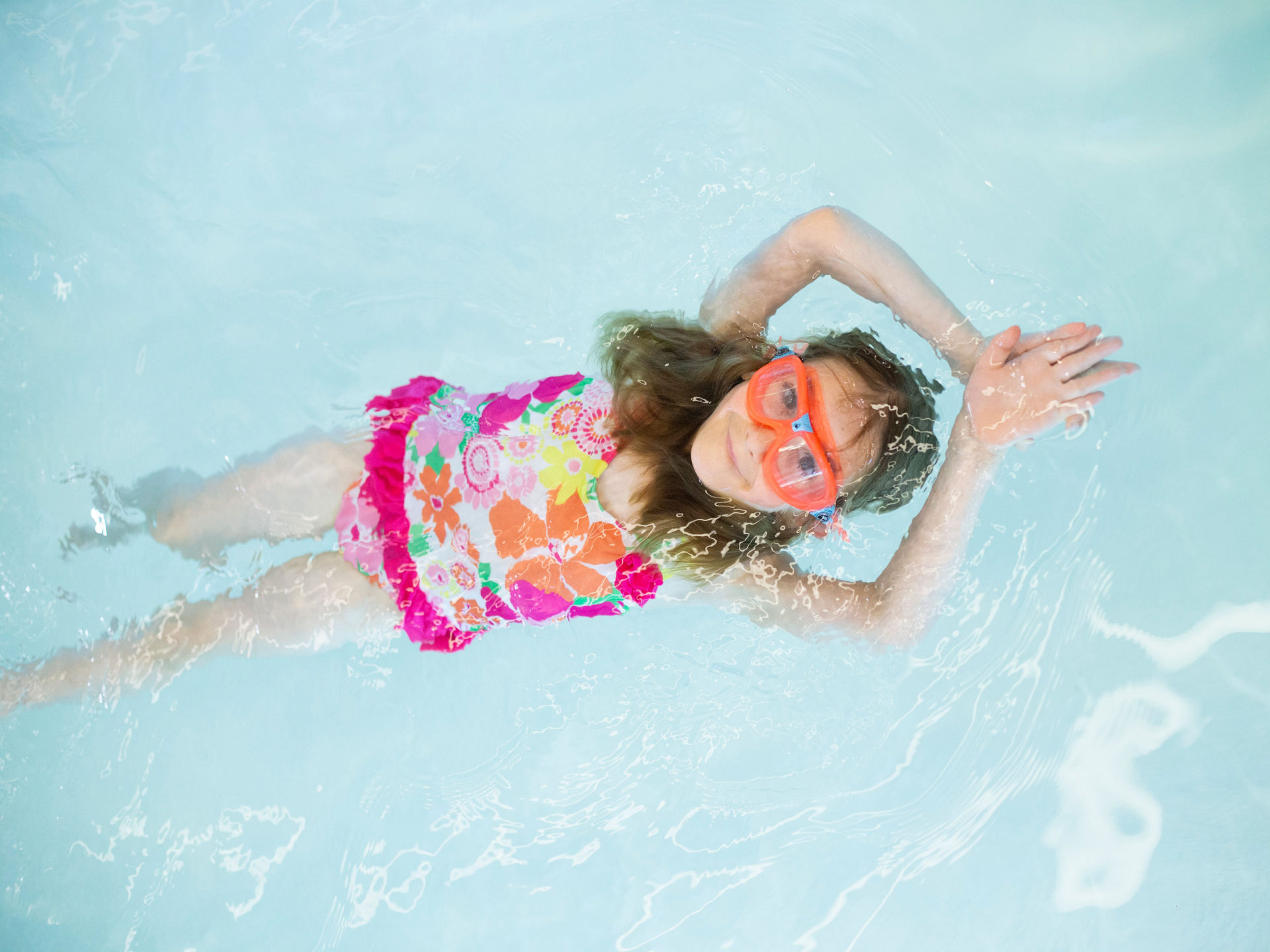 REGISTRATION
We have immediate openings for the following swim levels. Register Now! 
Parent-Child Classes, 18 months – 3 Years
New Swimmers, Ages 3 – 5
Beginner to Advanced, Ages 6 – 12
Private Lessons, All Ages
Choose your desired class in the Levels & Descriptions section below to get started.
Registration Details:
Availability across all swim levels will gradually increase until we reach our maximum enrollment. This is to accommodate the hiring and training of all new Aquatics instructors and lifeguards as well as monitor class demand. If you're waitlisted for your preferred class time slot, we'll notify you when more space becomes available.
Non-refundable monthly tuition due upon registration. Visit our financial assistance page to learn about available payment aid options.
Pre-registration tip: Log in to your account and verify that all your family's information, especially the date of birth for both you and your child, is accurate and up to date. Trouble logging in? Check out our FAQs here.
View our complete Swim School policies, processes and practices.
If you have questions about this process not answered above, you can reach out to our support team at swimlessons@jccsf.org.
Levels & Descriptions
The JCCSF Swim School program helps swimmers master the skills and strokes they'll need to progress to new levels of comfort and ability in the water. Scroll right to see the entire table. To sign up, select the level name (e.g., Frogs) and complete the registration process, or follow instructions to email us at swimlessons@jccsf.org.
AGES 6 MONTHS – 3 YEARS
AGES 3 – 5
AGES 6 – 12
DESCRIPTION
POOL
MAX CAPACITY
ASSESSMENT REQUIRED
LEVEL 0
Water Babies
NA
NA
Little swimmers and parents become comfortable in and under the water with games, songs and toys as they learn safety skills, floating on their back independently and propelling themselves through the water with eyes down for a short distance.
Recreation
5
No
LEVEL 1
NA
Frogs
Puffers
Level 1 students focus on self-submersion and floating on their stomachs and backs unassisted. Children learn to feel comfortable and safe in the water through games and play. Streamlining (correct body position and form) is introduced.
Recreation
4
No
LEVEL 2
NA
Gobies
Stingrays
Students learn the basics of streamlining, backstroke kicks and beginning stages of freestyle. Swimmers also practice underwater swimming.
Recreation
5
No
LEVEL 3
NA
Tiger Barbs
Seals
Students refine their freestyle skills by learning side breathing (to preferred side) and complete backstroke. Body positioning and concentration are key as students combine techniques. Breaststroke and butterfly kicks are introduced as well. To register for Tiger Barbs please contact us at swimlessons@jccsf.org
Lap
5
Tiger Barbs: Yes
Seals: No
LEVEL 4
NA
NA
Dolphins
Students will now learn freestyle breathing to the non-preferred side while continuing to refine their freestyle and backstroke skills. Breaststroke and butterfly are developed further with an emphasis on arm movement. Students will be expected to swim the entire length of the lap pool (25 yards).
Lap
6
No
LEVEL 5
NA
NA
Sharks
This level is geared toward our most advanced swimmers and split into two classes: Sharks and Tiger Sharks. Both levels continue to help swimmers improve their technique for the four competitive strokes, as well as teach them underwater starts, drills, open turns, flip turns and sit-down dives. To register please contact us at swimlessons@jccsf.org
Lap
6
Yes
SWIM TEAM
NA
NA
Pre-Swim Team
Please contact us at swimlessons@jccsf.org
Lap
12
Yes
Teen / Adult Beginner
Students in this class will develop confidence in the water by learning basic floating and freestyle skills. No swimming experience is needed for this class.
Teen / Adult Advanced
Prospective students should be comfortable swimming independently underwater. Students in this class will focus on technical skills for freestyle, backstroke, breaststroke, and butterfly.
What Class Should My Child Take?
PRIVATE SWIM LESSONS
Does your swimmer need a little extra support to gain confidence in the water or master a specific skill? Our one-on-one private swim lessons are 30 minutes each and are held on a weekly basis on Friday afternoons.
Private Swim Lesson rates are listed below.
View our Private Swim Lessons policies & procedures.
Interested in registering for private swim classes? Contact us at swimlessons@jccsf.org.
Group Lessons
Weekdays
Members $155
Public $183
Weekends
Members $164
Public $193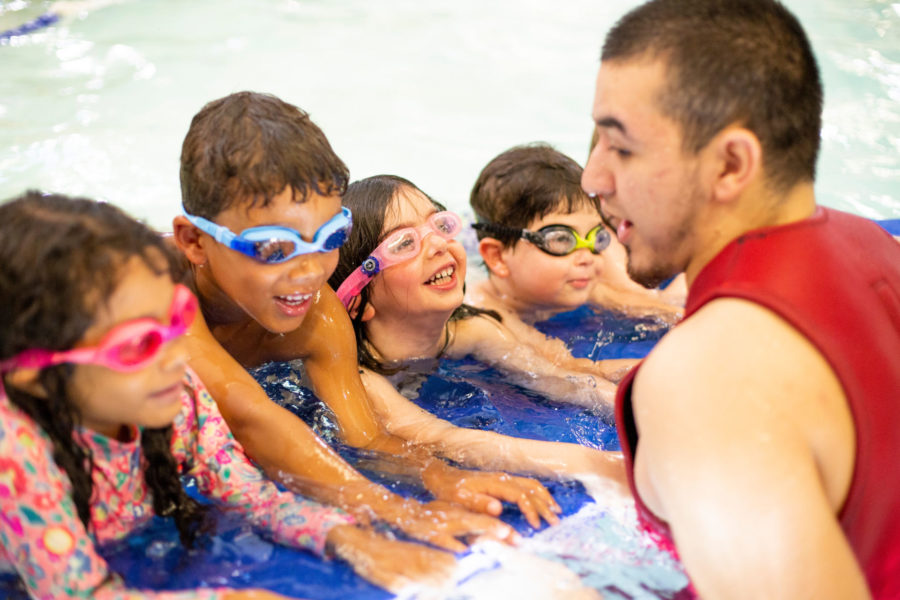 Pre-Swim Team
Weekdays
Members $255
Public $300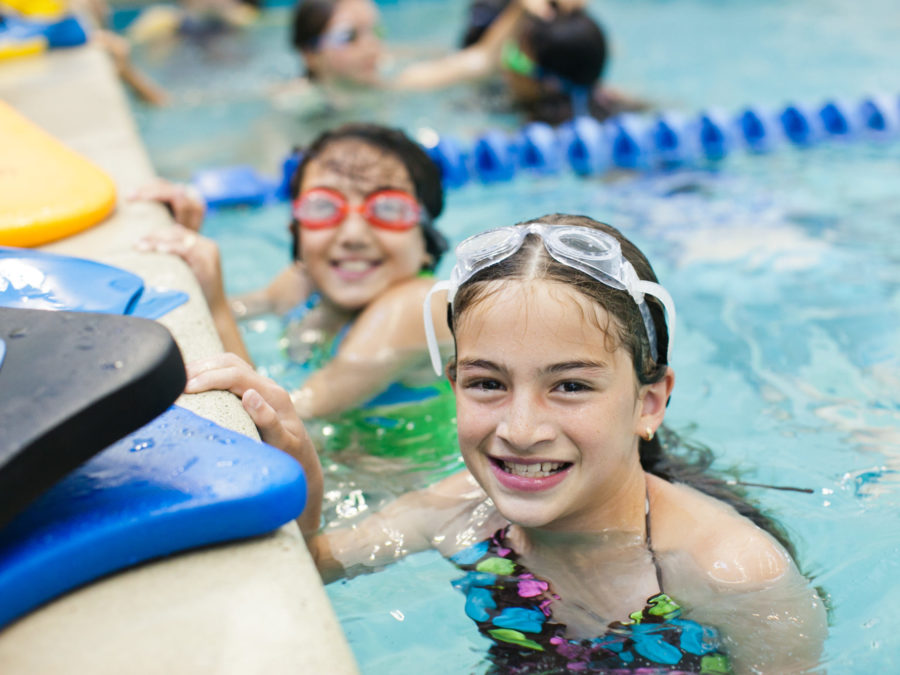 Private Lessons
Private Lessons
Members $325
Public $400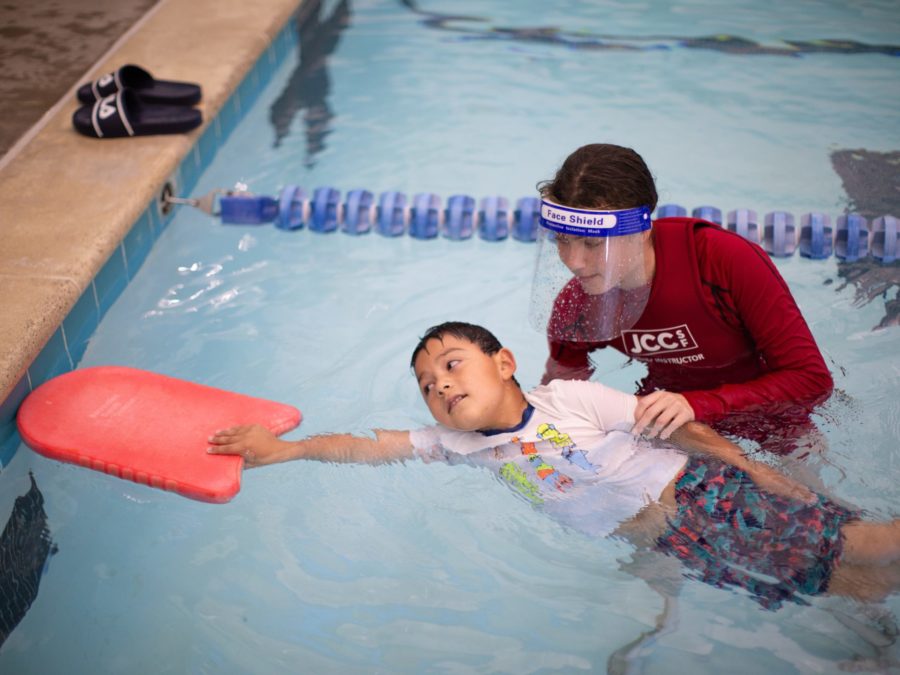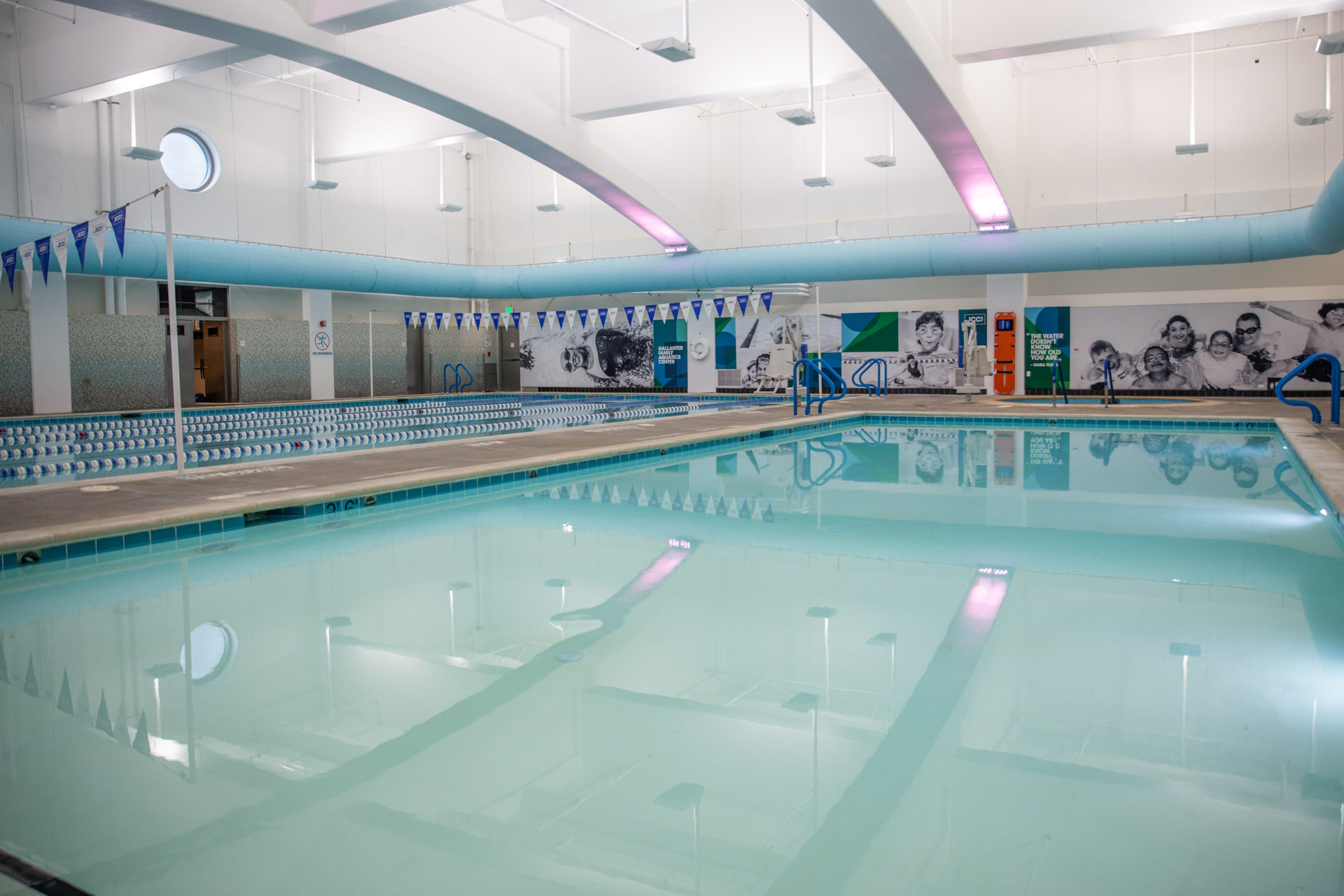 Just started infant swim classes here in the newly remodeled aquatics center and it's been wonderful so far! Amazing, attentive staff, very covid cautious precautions and a wonderful new facility. In our class of 5 infants, there were 3 instructors (plus parents) which felt like a great ratio. Easy underground parking. Classes filled quickly and they're well worth it!

Lydia B.

Parent
What Covid-19 health and safety protocols are in effect?
Read the latest JCCSF Covid-19 Update
Parents and caregivers are permitted to wait in the Swim School bleacher area, the lower lobby or on available benches and chairs in the Aquatics Center during lessons.
Class sizes vary according to level. Frogs and Puffers classes have a maximum of 4 students. Water Babies, Gobies, Stingrays, Tiger Barbs and Seals have a maximum of 5 students. Dolphins and Sharks have a maximum of 6 students.
A new dehumidifying system with MERV-13 filters will be in place that changes out the air six times per hour, two more than the required minimum for indoor pools.
Who qualifies for member pricing versus public pricing?
In order to receive member pricing for Swim School, you and your child must either have an active Family Fitness Memberships (both the parent and child are Fitness Center members) or active Family Community Memberships. (Individual and Older Adult memberships do not qualify)
What dates and times will be available?
We will offer group swim lessons Monday – Thursday from 9:00 am – 11:30 am & 3:00 – 7:15 pm, and Saturday – Sunday from 8:30 am – 2:00 pm.
Will there be waitlists?
Yes. Each waitlist will have a maximum of 5 spots available and each child can be on a maximum of 3 waitlists at a time. If you register into a class, please be sparing with your selection of waitlists as we would like all families to be able to participate as soon as possible.
Will the Swim Team be offered?
Swim Team is currently on hold. We will revisit the plan to restart the program in mid-2023.
What if my child's swimming progress has regressed since they last took lessons?
If you feel your child may have regressed in levels, start by completing the level assessment tool. A good guide for level selection is to start with the lower level first. Choosing a level that is too challenging can affect confidence for future classes, moving up is always easier than moving down.
What if I'm having trouble registering?
If you are attempting to register for a class that shows "One Spot Remaining" but the class has a full waitlist, it means the spot has been offered to someone on the waitlist, which means a waitlist spot will be opening up soon. Please contact us at
swimlessons@jccsf.org
with any questions regarding registration issues.
Get in Touch
Contact Us
Have a question about Swim School? Reach out to our team — we'd love to hear from you!