INTIMATE EVENTS:
An Elevated Experience
The

P

erfect

P

lace to Come Together
Classes, clubs, meet-ups, parties – our intimate event venues are equipped with everything you need to create a meaningful experience for your group. Dance class? Yoga? These spaces offer the flexibility to be configured for whatever kind of event you have in mind. A/V and meeting equipment is available, as well as various seating options and layouts.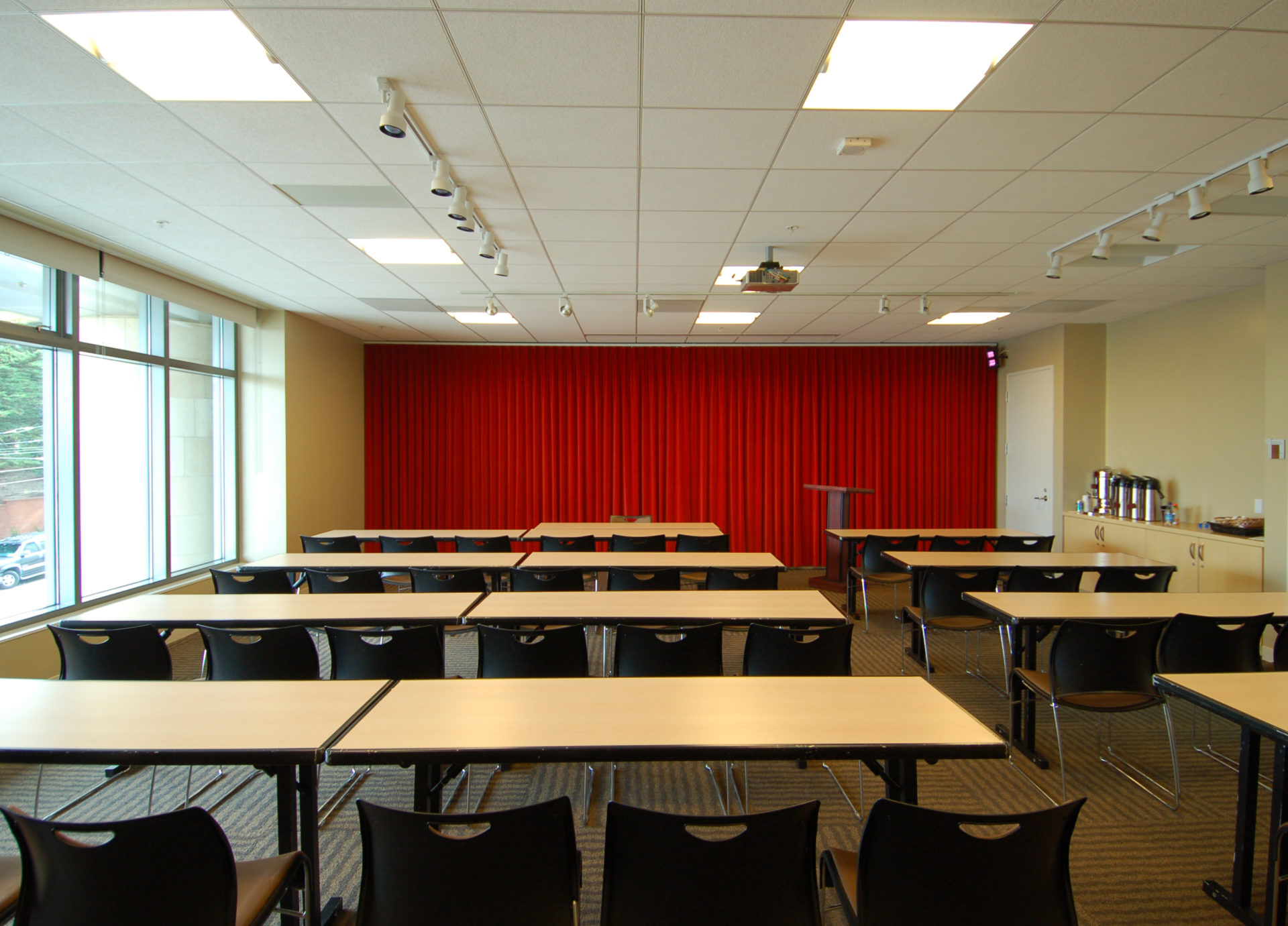 GALLANTER FAMILY HALL
With natural light and a view onto California Street, Gallanter Family Hall is the largest of our three rooms on the second floor. Complete with big windows, a whiteboard, full A/V capabilities including a screen, microphone and a podium, your meeting set-up will be worry-free – so you can concentrate on the business at hand. 
Room Details
Square Feet
900
Capacity
60 Theater Style | 75 Standing Reception
55 Banquet Seating | 35 Classroom Seating
Perfect for
Meetings
Seminars
Workshops
Classes
Shabbat and Rehearsal Dinners
Small Parties and Receptions
Memorials
BEIT MIDRASH
"Beit Midrash" translates into "Study Hall." And while you can certainly study here, we invite you consider this warm and wonderful room for intimate gatherings and special events. A corner room with built-in warm, wooden bookshelves and floor-to-ceiling windows, your guests will feel as special as the room itself. And did we mention you're free to use the lobby leading into the space, as well as the adjacent art gallery? 
Room Details
Square Feet
953
Capacity
50 Theater Style | 75 Standing Reception
25 Classroom Seating 
Perfect for
Parties
Baby Showers
Bris Ceremonies
Club Meetings
Retreats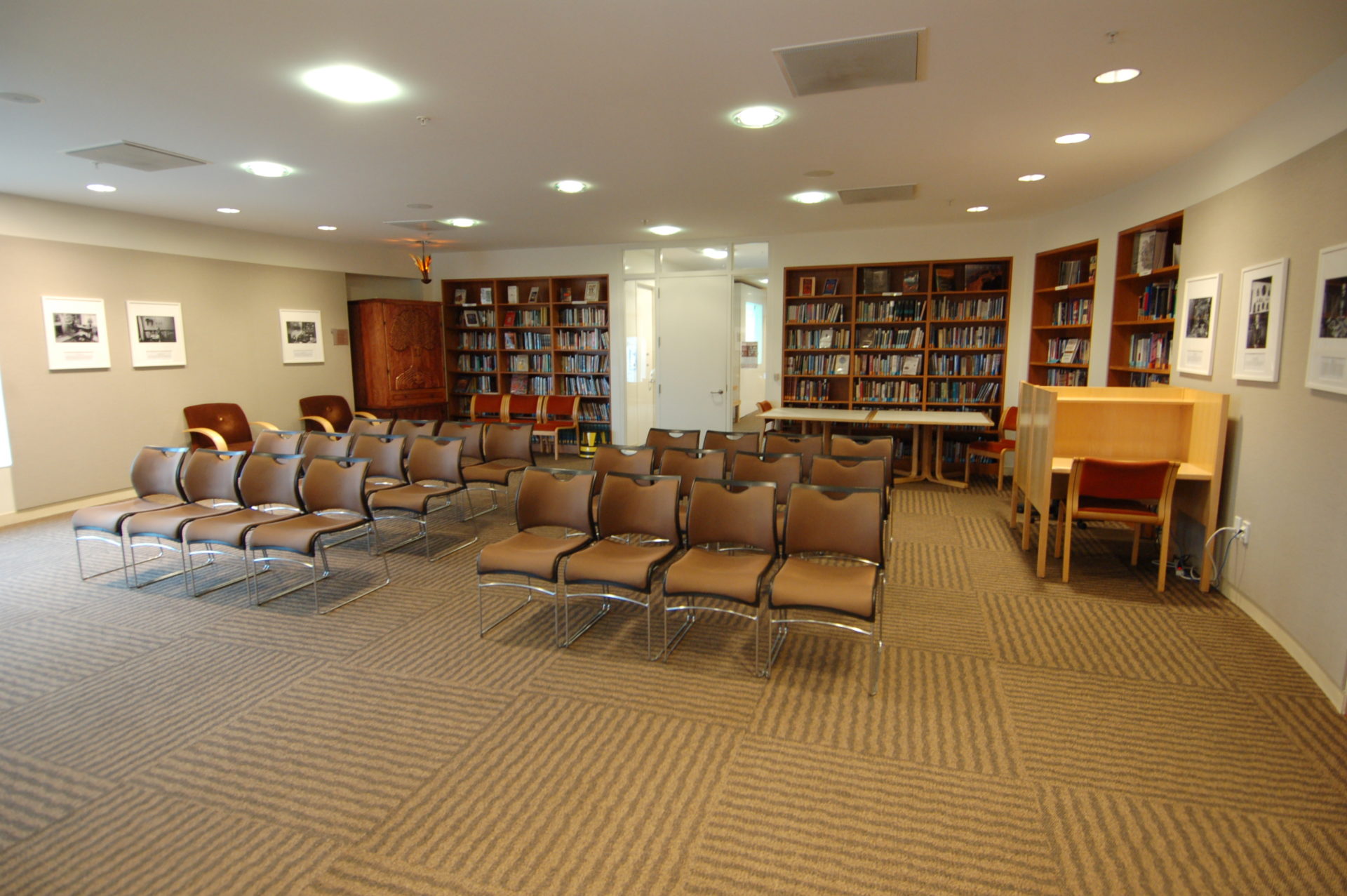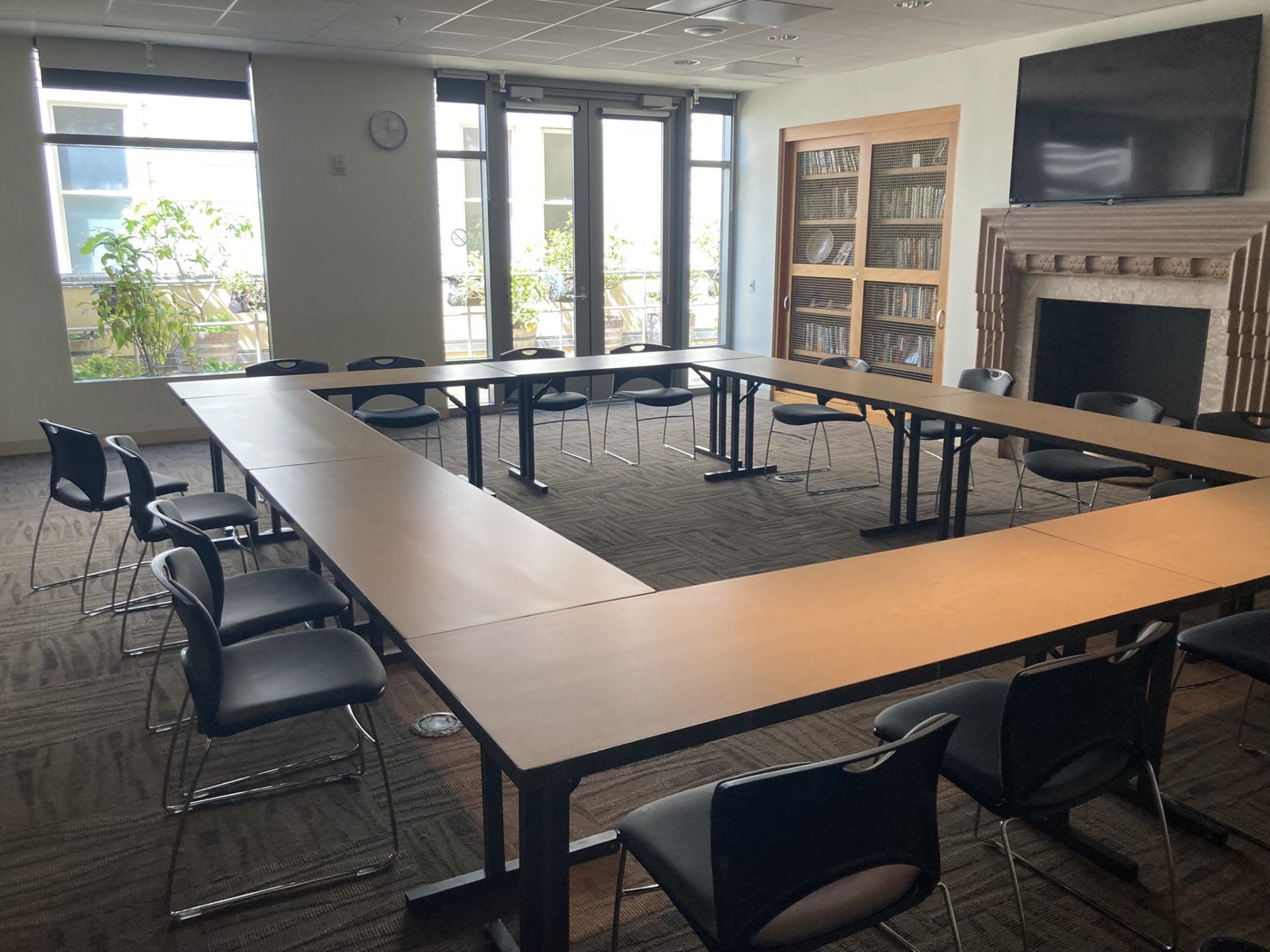 THE LOUNGE

 
When you think of a lounge, you probably think of somewhere intimate – someplace warm and cozy – comfortable with mood lighting and sofas, and a few small nooks to relax and connect. The good news is – so do we. And our favorite Lounge space is all that and more. The Lounge has a gorgeous fireplace, a library, built-in bookshelves and a small kitchenette space. And, best of all, a private outdoor space full of plants and beautiful foliage for you or your guests who want a breath of fresh air.  
Room Details
Square Feet
825
Capacity
45 Theater Style | 30 Standing Reception
20 Classroom Seating
Perfect for 
Parties
Baby Showers
Bris Ceremonies
Intimate Occasions
Retreats
Meetings
THE HANGOUT
This place is cool. Complete with a mini-kitchen and bar, think couches and hanging out in this comfortable, mid-size space. It has a big communal table and a private street entrance with glass doors that can stay open to let in the light, or draped to keep your event private. The Hangout is a stylish, stand-alone space for more intimate groups. If you're looking for warm and inviting, relax – your search is over.   
Room Details
Square Feet
1,49
0
Capacity
70 Standing Reception
Perfect for 
Birthday Parties
Cocktail Receptions
Youth Events
Add-On Space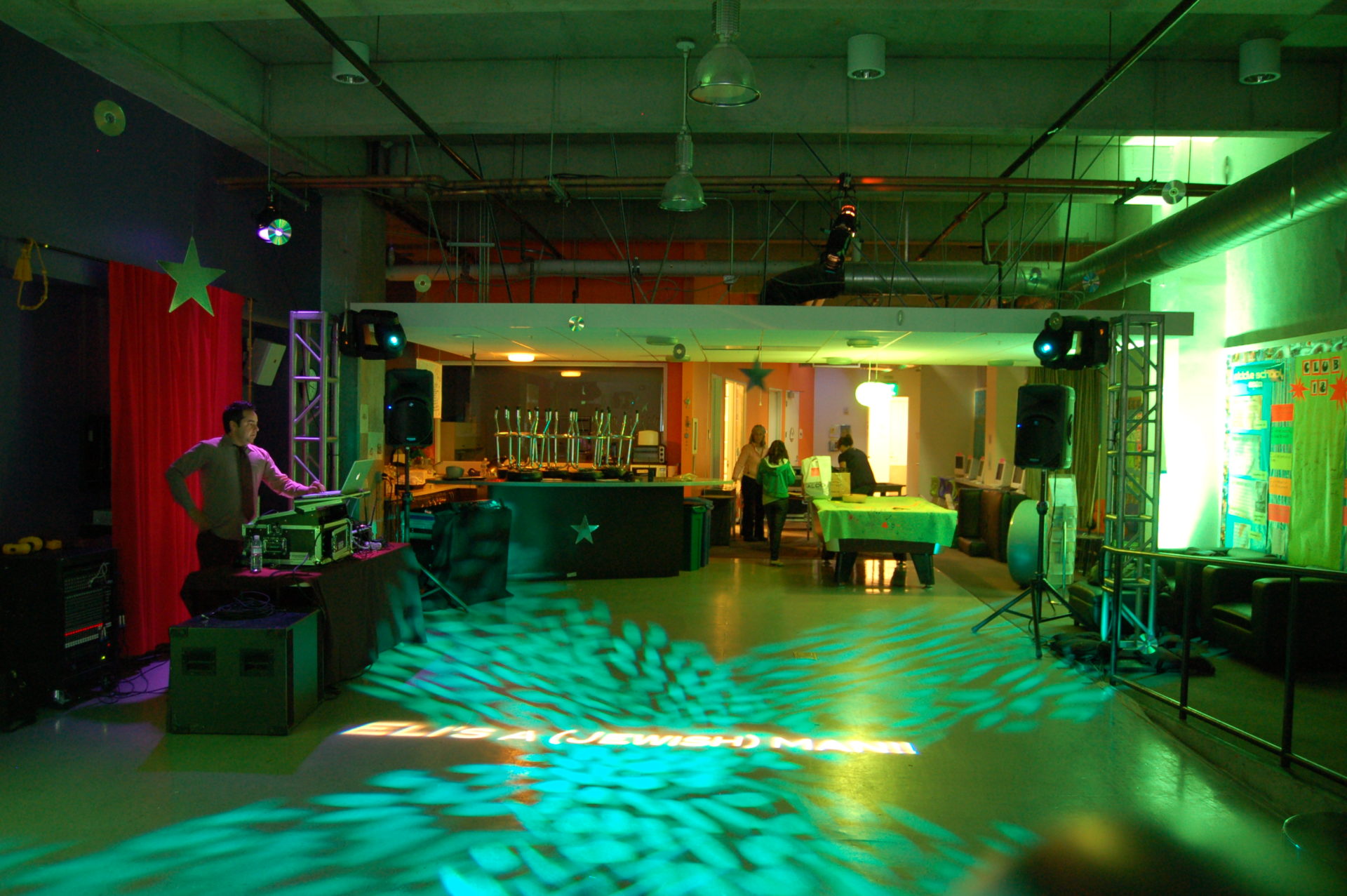 BOUTIQUE SPACES
When you need a room for business, the JCCSF is here. Right in the middle of our beautiful city, we've got plenty of smaller meeting rooms to accommodate you and your guests with diverse layouts and set-ups. From 435 square feet to 935 square feet, we're ready to welcome your work group of anywhere between 15 to 75 people. Each of these rooms comes with a whiteboard, screen, tables, chairs and windows that can let the city in – or drapes to keep it out. Catering available as needed. 
Perfect for: 
Meetings
Seminars
Workshops
Yoga and Dance
Resources and FAQs
There is nothing we like more than making you feel at home, whether it's for that big presentation or a "pop" of champagne. And we hope to welcome you soon.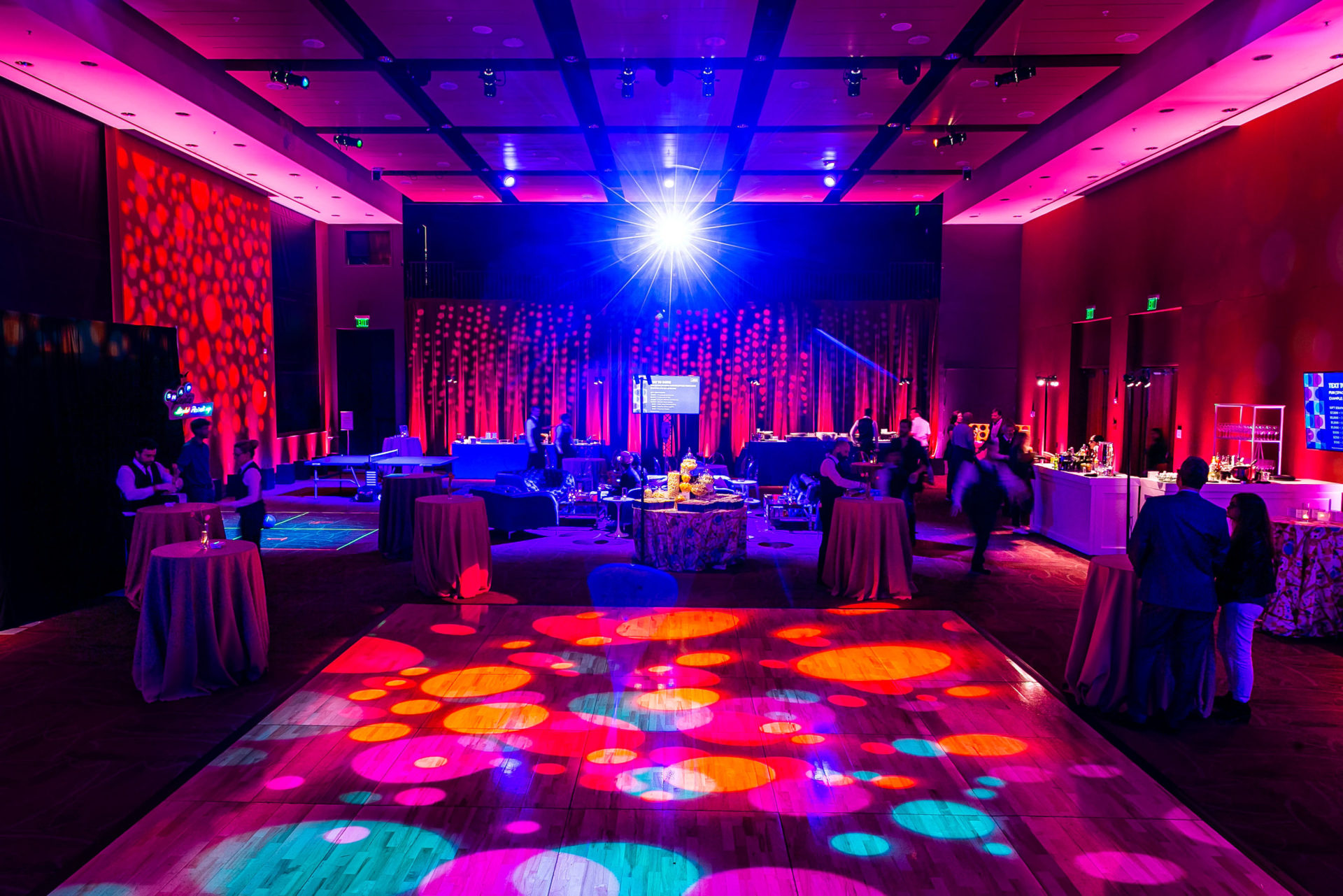 HAVE QUESTIONS ABOUT RENTING OUR SPACE?
We are currently booking private events including weddings, bar and bat mitzvahs, meetings, conferences and more.