Gallanter Family Aquatics Center
Opening Fall 2021
Thanks to a generous grant from Sandy and Linda Gallanter, we are nearing completion on a much-needed renovations project to improve the overall experience for all our swimmers. That includes a new dehumidifying system along with several other improvements that will make your experience more enjoyable, including the ventilation and air quality.
The new Gallanter Family Aquatics Center will open Monday, October 25 to Fitness Center Members with JCCSF Swim School group lessons beginning the week of November 1.
Become a Fitness Center Member and you'll receive complimentary access to the hot tub, lap pool, Aquafit classes, and Family Swim, plus member pricing for your kids' swim lessons at the JCCSF Swim School.
The details of our three pools:
25-yard Lap Pool: 5 lanes, 3½ – 6 foot slope width-wise, 80° temperature
Warm-water Recreation Pool: 15 yards, 1½ – 4 foot depth, 88 – 90° temperature
Hot Tub: seats up to 15, 102° temperature
Programs: Lap Swim, Aquafit, Swim Lessons, Swim Team, Family Swim Time
WHEN CAN I SWIM?
Aquatics Center Hours
Monday – Friday: 6:00 am – 10:00 pm
Saturday – Sunday: 7:00 am – 6:00 pm
The Lap Pool is always available for lap swimming during Aquatics Center hours except for Tuesday/Thursday from 6:00 – 7:00 am. Usage varies with afternoons from 4:00 – 7:00 pm tending to be the busiest time with the fewest lanes available.
Family Swim Hours (Rec Pool)
Monday – Thursday: 6:00 – 8:00 am, 11:00 am – noon, 7:00 – 9:00 pm
Friday: 6:00 am – noon, 6:00 – 9:00 pm
Saturday – Sunday: 7:00 – 8:00 am, 3:00 – 5:00 pm
What are the pool rules?
Proof of vaccination is required for all Fitness Center members.  Masks are not required when walking from the locker rooms or while in the pool.
Food, drink and/or glass are not allowed in the pool area at any time (water in non-breakable containers is allowed)
Children who are not potty trained must wear swim diapers and a swimsuit at all times.
No diving is allowed at any time in either pools or the hot tub.
Running is not allowed at any time in the Aquatics Center.
Children age 14 and younger

Must be accompanied by an adult (age 18+) at all times while in the Aquatics Center.
In the Lap Pool, children must be accompanied by an adult in the water and be swimming laps.
Are not allowed in the hot tub at any time.

While in the Rec Pool children age 7 and younger must have an adult (age 18+) in the water with them. Children age 5 and younger must have an adult at no less than arms length distance. One (1) adult may only supervise up to two (2) children ages 5 and younger.
Only Coast Guard-approved life vests are permitted. Other than Coast Guard-approved life vests no other outside floatation devices or toys are allowed in any pool.
Swimsuits are required while using any pool or hot tub.
Showering is required before entering the pools or the hot tub.
When using the Lap Pool, please be considerate of others and circle swim as needed. Also, please be aware of aqua joggers using deep/shallow water. The Aquatics Lap Lane Availability Schedule is posted in the Aquatics Center and at www.jccsf.org
Children are not allowed to use the aqua weights, hand paddles, kick boards or noodles.
Please refrain from excessive or unnecessary conversation with lifeguards.
If either the pools or the hot tub is closed, please do not enter the water for any reason.
When exiting the pool area, please use the side entrances and refrain from entering the lobby.
For COVID-related policies for Family Swim, visit our JCCSF Swim School FAQs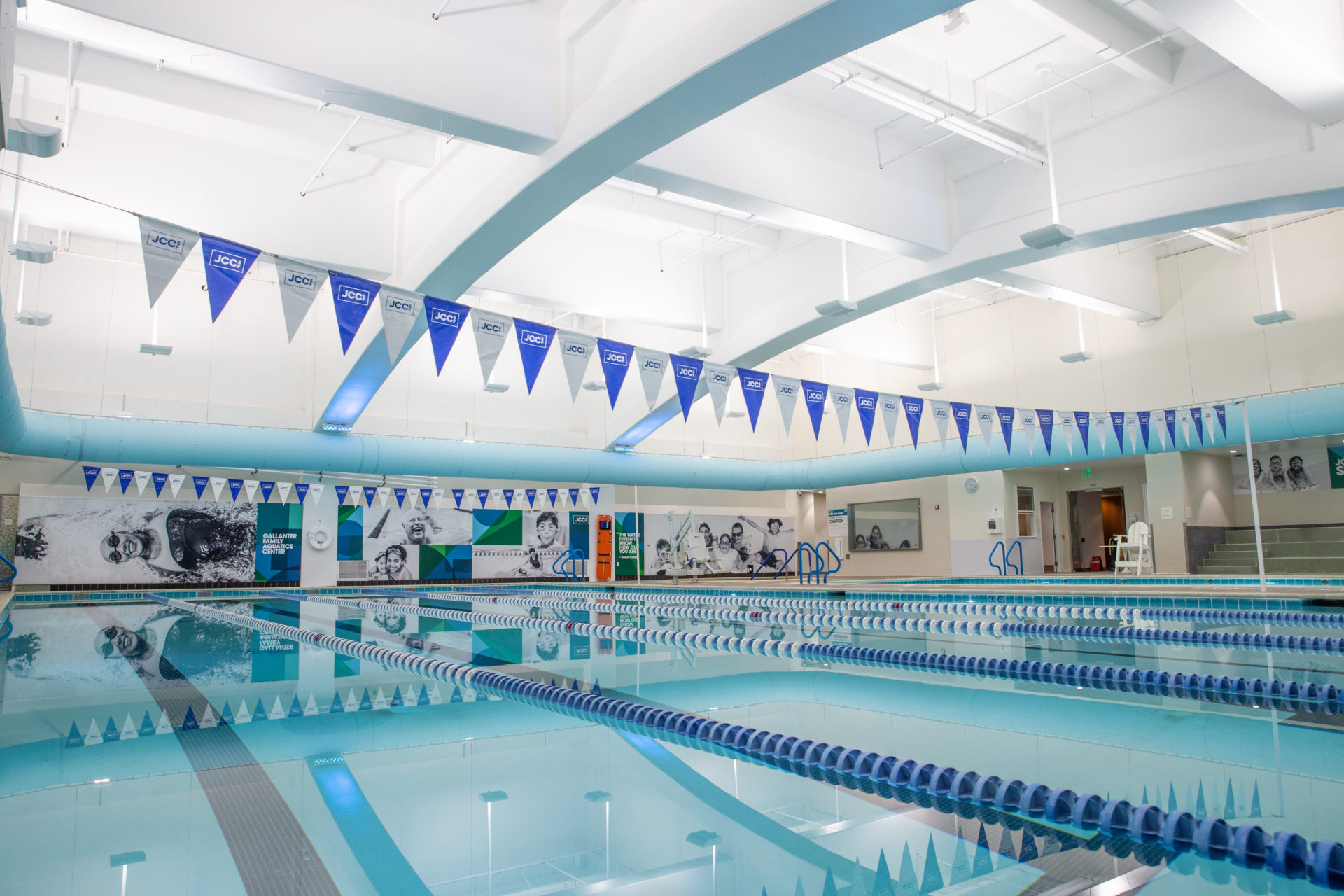 Still Have Questions?
Contact Us
Get in touch with us if you have any questions about the Gallanter Family Aquatics Center.