Welcome to our online Fall issue of JCCSF Voices, sharing behind-the-scenes features of the latest goings-on at the JCCSF. The past months have prompted our close-knit community to find new ways to stay connected. We're grateful to see people experience joy from their homes in our online events, workshops and traditions and have started seeing each other's smiling faces in person, too. Over the summer, the laughter of kids resounded within the building as Summer Camp went back in session. Today, Preschool, Class Connection and our Fitness Center have reopened, with safe practices in place. None of this would have been possible without your support. I hope you've found connection and inspiration either online or in person at the JCCSF. There's a lot to be proud of and a lot of excitement ahead.
– Be well,

Marci Glazer, JCCSF CEO
Summer Camp Success!
"[Our daughter] was met with warmth, professionalism and a genuine level of care."
– Lauren Shaughnessy, preschool camp parentLauren Shaughnessy, preschool camp parent
WE TEACH. WE SHARE. WE EXPLORE.
It's not summer without camp and the JCCSF continued its tradition of holding in-person camp for kindergarten through 8th grade. "It was safe and engaging for all the campers," said camp director AJ Frigliana. "We separated the campers into three groups and that created stronger, more authentic relationships." Our kindergarteners through 2nd graders, "The Shakers," kept their hands busy with an art specialist, who inspired them to unleash their creativity making YouTube videos. Also, Miss Melissa, a JCCSF favorite, returned with art projects ranging from painting to sculpture. Those in grades 3 – 5, "The Makers," engaged in project-based learning, focusing on STEAM- and science-based activities. A digital art specialist helped the kids hone their video editing skills, and campers even performed Camp-ilton, a rendition of the musical Hamilton. Lastly, our 6th – 8th graders, "The Performers," let their song, dance and acting chops shine in a musical-theater production of High School Musical.
"The feedback was really positive," said Frigliana. "Parents were happy to see how seriously we took our safety regulations and were happy that they could trust us with their campers. Some of the kids didn't even want to leave!"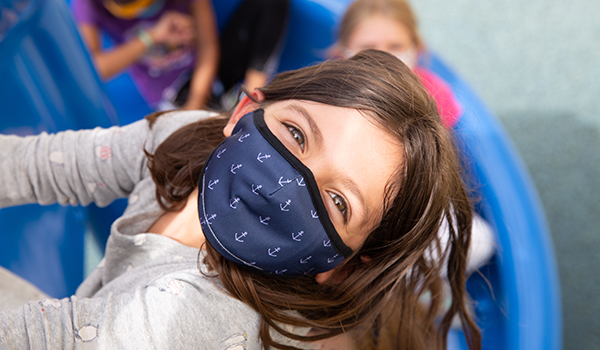 Our Digital Front Door is Always Open
In May, the JCCSF launched virtual content that continued to keep us closely tied as a community. It started with an adrenaline boost from the Fitness Center, which helped us move together from anywhere we were, thanks to online group fitness classes taught by our members' favorite instructors. These classes will be ongoing to give members an at-home exercise option.
We also launched a full suite of virtual High Holidays programming to build on our commitment to finding creative and heartfelt ways to celebrate Jewish life. We are so grateful for the support of our community members, donors, institutional partners and funders that made it all possible. Our calendar of online events continues to be robust as we find joy and make discoveries together, even from a distance.
As we continue to engage with each other in new ways, our social media channels have been extra lively. Since Sheltering In Place in March, we've received over 33k engagements on Facebook and over 4k on Instagram. Our community is most excited about the reopening of the Fitness Center, which is a signal that we're turning a corner and there's reason for optimism. Other popular posts included a Father's Day prompt that asked followers to reflect on something positive that impacted them; and a Summer Camp post that celebrated a season of staying safe and having a great time.
Our next step is a big one
With a successful summer camp under our belts and the JCCSF Fitness Center newly reopened, we are following through with our plan to welcome you back in motion, with stringent new health guidelines in place. Here, COO Craig Salgado sheds light on the intricate process behind reopening and how we are keeping you safe.
"JCCs are incredibly complex organizations that are largely about in-person interactions and connections. The JCCSF has a fitness center, theater, preschools, afterschool programs, senior programs, lectures and more. All these interactions were happening in one place.
Prior to COVID-19, there were 4,500 people a day who came through our doors. When you think of shutting it down and then resuming the level of programs, it's an incredibly complex effort. Nobody knew what it would take to restart these activities. It's like looking into a giant crystal ball all the time… a tremendous amount of uncertainty.
As we started to orient ourselves to return to offering in-person programs, we tried to pull from any source we could that had started to reopen. There was a vacuum of guidance. Even a jet company's return to operations was an initial blueprint for us. As we began, our Return to Operations Playbook took shape. And it was decided early on that our north star would be the San Francisco Department of Public Health. We brought together a pandemic response team pooled from different across the organization to have a variety of perspectives. We came up with protocols for health screening, temperature checks, cleaning and sanitation and our overall response.
The Playbook has manifested into a weekly updated, 35-page document that provides information internally to our staff with specific guidelines about how we run all our programs. The JCCSF inspires great trust and confidence in the community. We lean on colleagues from other organizations in San Francisco and across the country to gather best practices in order to continually evolve and refine our processes and procedures. Every day we get more certainty and clarity."
A place to go, a place to grow
For decades and through scores of programs, the JCCSF has embraced its role as a trusted place for Bay Area children to learn, be inspired and realize their potential. With public schools closed for the near future, many San Francisco families and caregivers with limited resources are torn between working to make ends meet while supporting their children's education.
To respond to the need for remote learning and childcare support, the JCCSF recently launched Class Connection, serving local families by providing academic support and inspiring enrichment programming for children in grades K – 5. Class Connection is a full day of tactical and creative learning led by the JCCSF's Afterschool Program Manager, Hillary Buren. Teachers aim to inspire, as well as educate, engaging students in structured activities throughout the day. They'll tap into books, creative experiences, and current news to gain insight and express opinions about important topics, like social justice and anti-racism.
Through Class Connection, the JCCSF is proud to participate in the City of San Francisco's Community Hub Initiative, serving our most vulnerable families – including underhoused and foster care youth, English language learners, and low-income families of color. Spearheaded by our funding partner, the Department of Children, Youth and Their Families (DCYF), neighborhood hubs across the city – like the JCCSF – provide wrap-around care, with the goal of collectively serving 6,000 children at 100 sites this year. "We are thrilled to deepen our long-term partnership with DCYF to meet the most critical needs of Bay Area families during this unprecedented school year," said Buren.
Full meals, personal protective equipment, mental health and family support, along with IT equipment are provided by the City of San Francisco.
"We knew it would take a village to get our young people the support and education they need, and city departments and our community partners have stepped up and worked together to turn our vision for the Community Hubs into reality," Mayor London Breed said in a recent statement.
We are looking forward to making an impact – and empowering young learners to do the same.
To keep Class Connection accessible to all who apply, we rely on the generosity of our donor, corporate sponsor, and foundation community. To become a vital part of this important endeavor, please contact Mary Ann Grossman, Major Gifts Officer at mgrossman@jccsf.org.